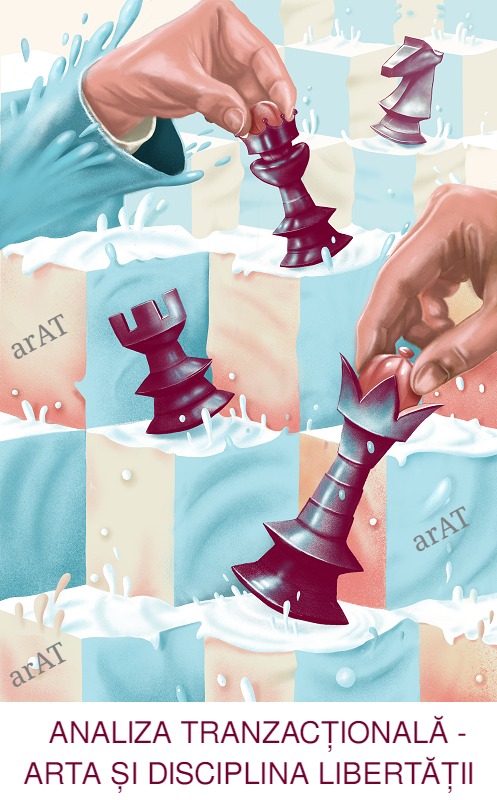 Scoala de primăvară ARAT 2023
28 Ianuarie - Dependent Personality and Interpersonal Dependency: Trauma, Identity, Relationships with Ales Zivkovic (PTSTA-P)
4 February - Educating for freedom: a tool for human health and emporwerment with Alessandra Pierini (TSTA-P)
About the workshop:
Freedom is unquestionably a good, sometimes it is taken for granted, very often, actually, it is misunderstood: examples of this are the many interpersonal or intergroup conflicts or abuses created and maintained in the name of freedom.
With this workshop I want to stimulate participants to think about what the characteristics of freedom are and how we can concretely help children to be free and to value freedom.
Parents, educators, teachers and psychologists have a great responsibility in fostering in children and adolescents an attitude that encourages their ability to think and act with respect for themselves and others.
The following topics will be covered during the seminar:
– child/adolescent characteristics and developmental aspects;
– the links between healthy script and freedom;
– discount and stimulation;
– cooperation vs. competition;
– freedom and addiction;
– age-appropriate educational interventions for children/adolescents (both in clinical and social contest).
Examples and clinical cases will be used.
Participants are invited to share their clinical cases and point of view in order to make the workshop a co-constructed experience.
The seminar is based on the data gathered over almost 30 years of the presenter's field experience with children and is inspired by the theoretical contribution of Maria Montessori, Jack Panksepp, Françoise Dolto and Jean Clarke (in the domain of Transactional Analysis)
About the trainer:
Alessandra Pierini is a psychotherapist, trainer and supervisor running training in an institute of TA she founded in Italy. She mostly works in psychotherapy and on the side she teaches TA to teachers and parents in schools as well as in organisations, in order to help increase intimacy and reduce games. She likes using stories, play and drawings to work with scripts towards redecision, attuned to the style of the style, desire and personal way of each client, irrespective of their age.
25 February - Transactional Analysis - a living bridge for people in organisations with Anette Dielmann (TSTA-O)
About the webinar:
The webinar provided by Anette Dielmann (TSTA-O) unites three perspectives:
systems dynamics

ethical TA principles – encounter and relationship

individual perspective: personal maturity and clarity
The journey:
challenges for organisations

challenges for people in organisations

contributions of TA / useful concepts

how to work with TA concepts
The goal:
new options for organisational systems and people in organisations

stimulating growth and development for people, teams and organisational systems

make a contribution to society
The workshop will be in English and we cannot provide translations, so a good enough understanding of spoken English is the minimum requirement for all attendants. 
Participants:
You are welcome to join this workshop with or without prior knowledge of Transactional Analysis, irrespective of the professional field in which you practise.
About the trainer:
Anette Dielmann (TSTA-O) is a trainer and a supervisor in Transactional Analysis. She works as a coach and consultant using TA in Germany. We have met her in similar workshops in Romania on previous occasions and we were impressed with her personhood – her warmth, firm and mature way of working with people and the systems they form. She offers clarity on how these work and to which extent human beings can influence the systems they belong to.
Find out more about her on www.anette-dielmann.de
4-6 March - Co-creative transactional analysis – with Keith Tudor (TSTA-P), live in Bucharest
About the trainer:
Keith Tudor is a Certified Transactional Analyst, a Teaching and Supervising Transactional Analyst, and, with Graeme Summers, the winner of the 2020 Eric Berne Memorial Award for their work on co-creative transactional analysis. He is Professor of Psychotherapy at Auckland University of Technology where is also a Co-Lead of a Group for Research in the Psychological therapies.
About the workshop:
Co-creative transactional analysis emphasises the "co" (mutual, joint) aspect of professional relationships, whether therapeutic, educative, and/or consultative – and, by implication, of personal relationships. The "co" of co-creative acknowledges the transactional, inter-relational, mutual, joint, and co-operative, as well as partnership. The word "creative" is an intentional reference to what is original, imaginative, intuitive and spontaneous about the encounter between human beings. Together, the suffix and the root word describe what emerges between therapist, practitioner, supervisor and client.
In this workshop, and in conjunction with the participants, Keith will present the principles of co-creative transactional analysis and the philosophical influences on its development, as well as it's key perspectives on TA. Depending on the interest of the group, he will also present some more recent research on the qualities of co-creative, as well as consider its contribution to contemporary relational theory and practice. There will be opportunities for discussion, demonstrations, presentation of clinical and other material, and small group work.
Schedule:
4-5 March 2023: workshop
6 martie 2023: supervision
Info on hours will be announced soon.
Sign up:
Participation in this live workshop will pay a participation fee and sign up. The limited number of participants as well as the fee will be announced soon — please follow this page to stay up to date regarding these details.
If you already wish to express your interest to join us, you can be in touch with us in the facebook page for now – Workshop Keith Tudor
17-18 March - An ethical perspective on the art and discipline of freedom with Evelyne Papaux (TSTA-E)
About the webinar:
If stepping away from our script feels like a longed-for freedom, it is also challenging to let go of our story and well-known strategies. It invites us to develop more awareness about how we decide on our actions, to explore what this responsibility means in our everyday life and encounters. As practitioners it also raises new questions such as how to support our clients in living with the uncertainty of post-script experiences, in developing their own ethical perspectives.
This workshop will invite participants to explore how the on-going motion of integrating Adult can support ethical decision making and the potential internal dialogue present in such a process. We will also examine the idea of ethicability and its three stages process with regard to various situations. In addition we will more specifically inquire into situations involving  asymetrical relationships, such as working with children.
The workshop will be in English and we cannot provide translations, so a good enough understanding of spoken English is the minimum requirement for all attendants.
Participants:
Psychologists, psychotherapists, educators and trainers, as well as Transactional Analysis enthusiasts who are excited about working with Evelyne Papaux on developing what can be called the art and discipline of freedom.
About the trainer:
Evelyne Papaux is a TSTA-E. For years she has been working with babies, children and their families; children with special needs, children in day care centres and in homecare. She is now active in the initial and ongoing training for educators for young children. She sees TA as a significant means of promoting prevention and /or resilience and empowering people.
Bibliography:
Cornell,W., De Graaf.A., Newton,T., Thunissen,M.,(2016).

Into TA. A comprehensive Textbook on Transactional Analysis.

Karnac

De Graaf,A.& Kunst,K. (2010)

Einstein and the art of sailing : A new perspective on the role of Leadership.

Sherwood Publishing

Drego,P., (2006) Freedom and responsibility: social empowerment and the altrutic model of ego-states.

Transactional Analysis Journal,

36(2): 90-104.

Eusden,S. (2011).

Minding the gap: Ethical considerations for therapeutic engagement.

  Transactional Analysis Journal, 41(2):

101-113.

Newton,T.  ( 2011) The nature and necessity of risk: Minding the gap in education.

Transactional Analysis Journal, 41(2):

114-117.

Papaux,E.,(2020) On deciding to work with children

. The Script newletter

Steare,R.,(2008)Ethicability: How to decide what's right and find the courage to do it. Sevenoaks, UK:  self-published
Prices
1. For the workshop on Dependent Personality, ARAT members should contact Mrs. Anca Tiurean at vicepresedinte@arat.ro and non-ARAT members please go to the following link to sign up – bit.ly/3w2k1LV. 
2. To take part in the live workshop with Keith Tudor in Bucharest you need to sign up for either the two-day workshop attendance, supervision day or both. The prices are 530 RON (110 euro) for 4th & 5th of March workshop,  350 RON (75 euro) for supervision day (6th of March) or 750 RON (155 euro) for the whole 3 days (3rd, 4th, 5th of March). For more information please contact Mrs. Sorina Vrana at delegateata@arat.ro
3. For the online webinars of February 4th February, 25th February and March 17-18 please sign up according to the instructions below:
| One workshop | Two workshops | Theree workshops |
| --- | --- | --- |
| 420 RON | 760 RON | 1.020 RON |
| 85 Euro | 155 Euro | 205 Euro |
| One workshop | Two workshops | Theree workshops |
| --- | --- | --- |
| 480 RON | 880 RON | 1.200 RON |
| 100 Euro | 180 Euro | 240 Euro |
Registrations
Refund policy
If you can no longer participate in the workshop you have signed up for and paid, we offer you the following possibilities:
A – find someone to replace you and let us know they are coming instead. As soon as that person pays, you get the full refund.
B – tell us you can no longer attend and ask for your pay to be redirected to another upcoming workshop.
C – get a partial refund of 50%
Please be aware that refunds are no longer possible when you have not found someone to replace you or when you wish to withdraw later than two weeks prior to the event, considering that it was organised for you and counting on your contribution for its financial viability, meaning that your withdrawal might otherwise lead to the cancellation of the event.
For payment please use the following IBAN details (for Ales Zivkovic use the following link – bit.ly/3w2k1LV):
Benefficiary: Asociatia Romana de Analiza Transactionala
IBAN EURO: RO08BTRLEURCRT0PB4074701
IBAN RON: RO61BTRLRONCRT0PB4074701